Forever Docks: A 100% wood-free dock built to last a lifetime with no maintenance, no rot, no split decking, and no splinters.
A Forever Dock from HMP Marine Construction is strong and durable, engineered, and built for a lifetime of trouble-free enjoyment while providing a beautiful and cost-effective solution.
EcoPile from Shoreline Plastics
Each Forever Dock starts with hollow, high-tech EcoPile composite pilings from Shoreline Plastics. These patent-pending vinyl and fiberglass composite marine pilings are superior to traditional wood pilings and safer for our waterways.
EcoPile products are available in several diameters and lengths and are engineered and designed specifically for the demanding needs of the marine contracting industry. HMP Marine then creates an aluminum pier structure using marine-grade extrusions that are custom fabricated for each individual project.
HMP uses only the highest quality marine-grade aluminum extrusions to fabricate our dock frames. Fasteners are stainless steel or aluminum and critical structural elements are welded in order to provide a lifetime of maintenance-free enjoyment.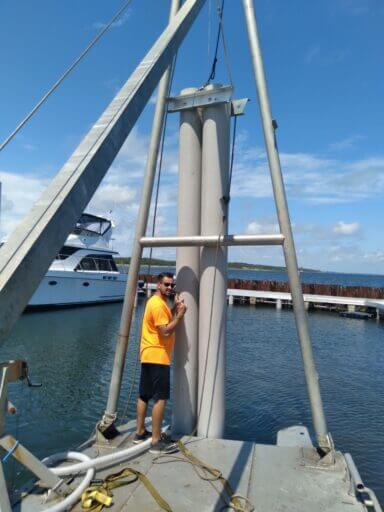 Forever Dock Decking Options
For the finish surface, we offer our clients a choice of durable and maintenance-free Sure-Step or ThruFlow premium decking options. These premium decking products are available in an assortment of beautiful patterns and long-lasting colors.
Thru-Flow Premium Decking
Thru-Flow Premium Decking Solutions include many beautiful decking options, ranging from the tried-and-true Legacy and Legacy XP products to the new SOL series. This innovative decking provides a slip-resistant surface with fully integrated solar panels to provide power for boat lifts, dock lighting, and more.
Sure-Step Dock & Decking
Sure-Step decking is a high-quality, maintenance-free decking system that is lightweight and long-lasting on and off the water. Made from polypropylene, Sure-Step docks are resistant to storm surges that can cause extensive damage to traditional solutions. Made entirely without wood fibers, the 100% polypropylene will not warp or move over time. Sure-step panels are available in widths from 4 to 6 feet in gray, white, tan, and khaki.